Category:
Pickup Schedules
Greendrop Cloppers Mill Open for Business
The GreenDrop Cloppers Mill location is now open for business! Please download the flyer for more information.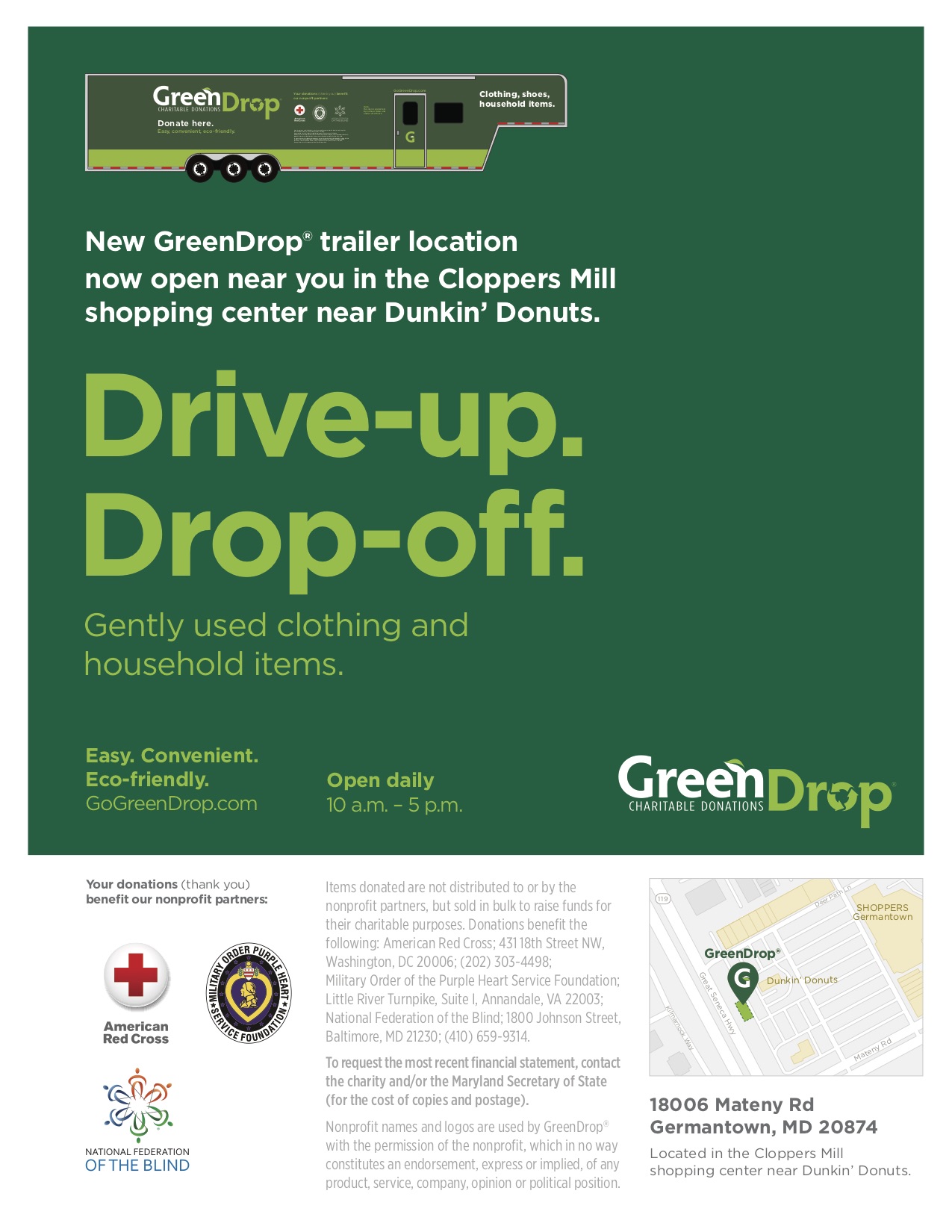 Trash Pickup
Kingsview-Ridge Trash Collection:
Due to skyrocketing costs, the Kingsview-Ridge Board of Directors have contracted with Ecology Refuse Services for trash collection starting Wednesday, February 2, 2022. The change in provider will affect the days for trash collection.
Trash will now be collected on Wednesdays and Saturdays.
*Recycling will continue to be collected on Wednesdays by Montgomery County.
NOTE: If trash collection falls on a holiday (New Year's Day, Memorial Day, Independence Day, Labor Day, Thanksgiving, Christmas, or any other holiday the refuse transfer station is closed), collection will be on the next SCHEDULED collection day.
Proper disposal of waste is an important part of keeping our community clean and beautiful. Listed below are helpful reminders regarding trash and recycling:
Trash and recycling containers must be stored out of public view except on collection days.
Hard plastic or metal trash bins with lids that secure or heavy duty "construction style" plastic bags that are tightly secured are the only approved containers for use. White kitchen style trash bags are expressly prohibited for placement at the curb.
Place trash out for collection the evening prior to trash collection day or before 7:00 a.m. the day of collection.
Note: Please do not leave your trash in those white kitchen bags. The animals get into those and it makes a big mess. Thank you for your cooperation.
Bulk Pickup
Our Waste Management company, Ecology Services Companies, will do bulk pickup. For bulk pickup, the individual homeowners need to call Ecology at 301-362-6700 to schedule a bulk pick-up and the homeowner will be charged directly.
Let us work together to keep our community beautiful!
Recycling
You can look up our county recycling collection day and services by going here
Recycling Link.
Montgomery County residents may recycle their Christmas trees from December 26th through the first Friday of February by placing the entire tree at the curb by 7am on their regular recycling collection day. Please make sure to remove all decorations and tinsel and do NOT place tree inside a plastic bag.